About Glenda and Chris…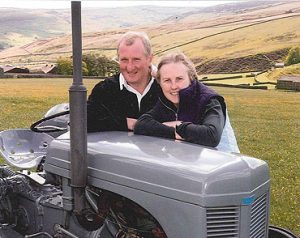 We live on a large hill farm in Upper Swaledale where Chris breeds Swaledale sheep. We have a holiday cottage, Hillcrest in Low Row which, one day, we will retire to.
Being married to a farmer means little free time so to keep me out of mischief I welcome visitors into our home for bed and breakfast. Our main season is between April and October when hundreds of walkers take up the Coast to Coast challenge. Pry House Farm is half way along this 186 mile walk and lots of our visitors enjoy a relaxing evening here before tackling the second half of their journey.
Other guests stay here for a variety of reasons; the amazing scenery & the unrivaled views of the meadows & fells, the peace and quiet, good home-cooked food, the coal fire, the very comfy beds, the home-from-home welcome. During their stay they have the opportunity to explore the Yorkshire Dales, walk, enjoy the abundance of wildlife and wild flowers which are all around us and if they are lucky our fabulous, zero light pollution night time skies.
When the season is over and I have more time I like nothing better than to catch up with family and friends. I enjoy cooking, baking, reading, crosswords and crafts.
Take a look at our farm blog here »