Hillcrest, our dog friendly self catering cottage in Upper Swaledale
We are happy to welcome one well behaved dog and his/her owner at Hillcrest Cottage.  There are a host of walks from the door for you and your faithful friend to enjoy.

Sometimes guests ask if they can bring two pets and providing they are mature and sensible we usually agree.  There has to be a few rules; its only fair to all our guests – dogs are not allowed in the bedrooms or or on the furniture.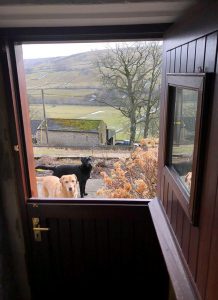 The utility / cloakroom with its hard flooring and door out onto the garden is ideal for pets.  We even provide dog towels for that  occassional wet walk.