As the sun drops over the horizon a riot of colour fills the sky.

These spectacular skies can happen at any time of year.  As the sun sets an exotic colour palette seeps across the sky providing a brief but mesmerising early evening display.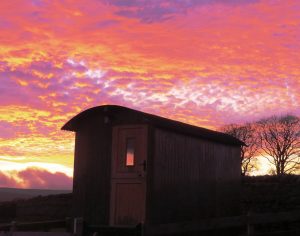 The Shepherd's Hut sits beneath a massive unbroken sky and is perfectly positioned to witness the sun rise in the east and the sun set in the west.  Zero light polution at Pry House Farm means very dark skies and very dark skies make for starry, starry nights.  See shooting stars and the Northern Lights in autumn and the planets in spring.  In summer during the long daylight hours whispy clouds skip across the sky and the air is full of birdsong.  The earth beneath your feet, the sky above your head, surrounded by acres of space – an experience to remember.