The Shepherds Hut for family fun.

What an adventure! A sleepover in a Shepherds Hut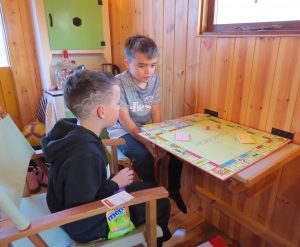 Do you like the idea of getting the kids away from gadgets & gaming and mobile devices?  Bring a board game, a football, lie in bed playing memory games or guess the sound.  What's that noise?  A bird, a sheep, a lamb, a tractor?
Go for a walk.  No, go on an adventure.  Follow a map (we have 3 different illustrated children's walk leaflets), go stream walking, search for fossils, spot a heron or a swallow or a mallard.
And all the while, without even noticing it, breath lungfuls of fresh air, work up a healthy appetite and sleep like babies!