A group of YDNP friends & colleagues tucking into breakfast at Pry House Farm B&B

It was a pleasure to host this friendly bunch who stayed at Pry House Farm after a special celebration in Keld to mark the conclusion of the Every Barn Cowus Tells A Story project.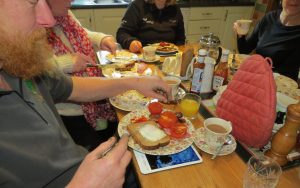 Four guests for breakfast is the norm at Pry House Farm B&B but when its all one group, who are happy to squeeze up a bit, join in and be jovial, I can stretch to six or even seven!
Quality, food miles and buying British are top of the list when it comes to breakfasts at Pry House Farm B&B.  As a farmer's wife I understand the importance of supporting British farmers and growers whenever possible.  My meat comes from Steadman's Butchers in Kirkby Stephen and the sausage is from Buckles Farm in Barras, Cumbria.  Eggs come from Dixons of Hartley and most other produce from the greengrocers and the Co-operative in Kirkby Stephen.  At Pry House Farm the union flag is more important than price.