Pry House Shepherd's Hut welcomes its very first guests.

Settling in as dusk falls.
Meg and her sister are the very first people to stay in our Hut-in-the-Hills.  They are blown away by the setting and watch in amazement as the light fades, the ewes and lambs settle down for the night too.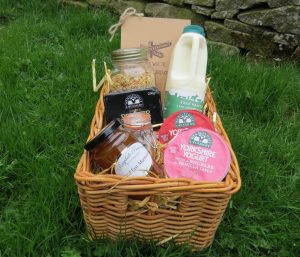 We hope they have a comfortable & cosy evening in the Shepherd's Hut.  Their 100% Yorkshire continental style breakfast will be ready for them to enjoy in the morning. Delicious Yokenthwaite granola, yoghurt & butter from the Wensleydale Creamery, Raydale Breakfast Marmalade and lashings of Yorkshire Tea!